If you get a badly damaged board min the middle of your floor you can easily replace it. Experienced fitters can do this for you very effectively as the pictures below show. It always seems that the floor board that will get damaged is right in the middle where maybe someone has dropped something really heavy or worse still chipped the board.
The pictures above show how a board has been removed carefully so as not to damage the boards around it. The tongues are then removed careful with a wood chisel so that the replacement board can be fitted back in. This is done easily if you have engineered hardwood flooring glued down but you can still do it with solid wood flooring.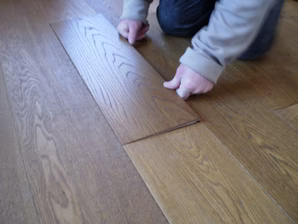 The replacement board is then replaced carefully using adhesive and as you can see no one would know it had been replaced.